Halloween 2015: Sasha Braus from Attack on Titan
7:30:00 AM
The (Potato) Girl On the Train
It's my favorite time of the year again: Halloween!
The one time of the year where it's somehow acceptable for men and women to dress up inappropriately.
But I was never for sexy nurses (unless we're talking Silent Hill) and revealing costumes. So this year, like last year, I'm going to somehow link my costume to
food
.
If you haven't checked out my costume from last year, you can read all about my adventure as the Morton Salt Girl.
Now this year, I will be dressing up as Sasha Braus (AKA Potato Girl) from Shingeki no Kyojin (Attack on Titan). She is one of the side characters in Attack on Titan and I think it's a bit of a miracle that she's still alive and kickin'. So I'm going to pay homage to her because like me, she's also a foodie.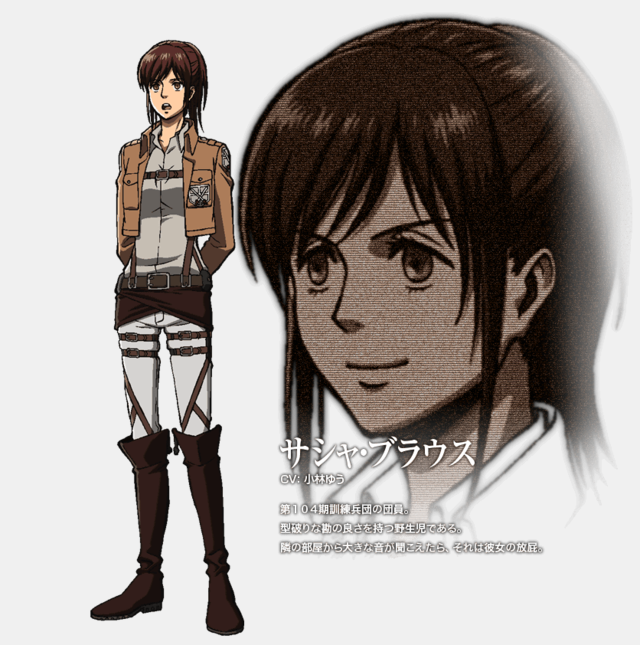 I may have gotten overly confident when I decided to put this costume together because there are so many parts and pieces.
I'm hoping to break everything down for future references.
Costume
This costume has multiple parts and pieces that you have to buy or make to pull together the look. I decided to skip the cape and go for the jacket.
I knew I wanted my budget to be around $50-$60. So I spent most of my budget on Amazon.
White Jeans from Target

$20~

White Dress Shirt from Uniqlo (Gift)

Waist Wrap from Amazon

$7

Boots (I don't remember how much they were, I'm just using the ones from a year or two back.)
Total Cost:
$61
(And I'll be reusing those white pants for work. So hooray for reusability.)
The basic setup.
Now, everything is pretty standard and straightforward to put on. Everything that is…
but
the harness.
The harness is a pain. in. the. ass.
So before you pull your hair out trying to go by the "tutorial" they gave you in the package, save yourself the trouble by just heading to Youtube.
Also what you want to do first before that is lay your harness out and either try to iron or press it down to get all those wrinkles out. Everything is easier when the pieces are all straightened out.
For the harness tutorial, I watched Riley Thompson's How to Assemble Your Attack on Titan Harness about.. 5 times. I watched it through once just to get an idea and then the second time I tried to follow the tutorial as I put the
lovely
contraception on and then a few more times afterwards.
A warning to beginners:
it will take you about an hour to put it on the first time because you're unfamiliar with all the loops and pieces. Adjustments. Dress shirt hitching up. Pants sliding down. Thigh straps sliding down. (THIS HAPPENS A LOT). It will be very frustrating. You may want to take a break in between to cool off..
And if you manage to get everything on without breaking out into a sweat, give yourself a pat on the back!
Like Riley, I also trimmed my harness so that the overall look was more fitted rather than having pieces dangling out from here and there.
For my thigh strap problem, I invested in hem tape and taped the thigh straps to my jeans temporarily. Fingers cross that on the day of Halloween, it won't slip off.
Survey Corps salute!
Second problem I ran into was my waist wrap. There wasn't a size selection the Amazon listing so I ended up with a large, which was too big for me. So I had to take it in with a bit of sewing. If you don't want to sew, you can also use fabric or hem tape to just seal the edges.
Makeup and Appearance
Now I'm sure Sasha didn't wear any makeup, but I had to so that I can look more the part.
I kept everything fairly natural. Here are the steps break down:
Apply CC cream to even my complexion. Conceal any blemishes.

Slightly contour the nose for a smaller and pointier tip.

Set everything with powder.

Fill in the brows. She has fairly thin brows. So I try to keep my brows as thin as possible. You want them long and straight and brown in color.

Apply a caramel tone over the eyelid.

Use a milk chocolate shade over your crease area to add some definition.

I also used the same shade on my lower lash line as well.

Add eyeliner. I winged it just slightly at the ends.

Add mascara on upper and lower. Waterproof works best when fighting Titans.

Add a subtle falsies for added definition.

For lips, you want something that's similar to your natural lip color.
Throw on your wig and viola, you are done! For me, I just had to pull my hair up into a ponytail.
On the day of Halloween, I'll also take with me a potato or bread. I haven't decided on which yet. I may.. try to pose in front of the Spuds stand at San Pedro Square that day… just because. You gotta embody the character!
What did you say? There's food?!
If you see me wandering around downtown San Jose that day, come up and say hi! I wonder if this will be enough to nick me a prize at my company's Halloween contest? Granted I'm not even sure if anybody at work would get the reference.
Come back to this post after Halloween as I will update this post with more photos after the Halloween festivities!
What is your Halloween Costume? Any plans for Halloween? It's going to be on a Saturday after all. My friends and I are planning to go downtown for a party.